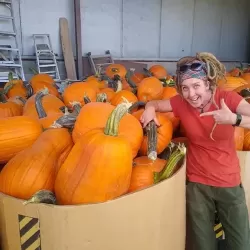 The Colon Orchards family supports all the people who want to learn more about farming. We are open for educational field trips every October so kids of all ages can come experience a day on the farm. 
As a farm that's been in operation in Canon City for over 80 years, we have developed our own way in nurturing all the produce we grow at Colon Orchards. Our processes have helped us make sure we are only providing you with the finest and freshest produce and we will gladly take you through everything we do, tell you about why we do it, and show you the results of our hard work. 
Learning Fun At Colon Orchards
At Colon Orchards, everyone on staff is friendly and so excited to show you around. There's no doubt when you come to Colon Orchards that you will have a great time.  From the moment you set foot on the farm, throughout the trip, and until you leave, the Colon Orchards family will be there to answer questions.
On Your Colon Orchards Field Trip, You Will:
Learn how apples grow
Learn about different types of pumpkins 
Get to pick an apple from an apple tree
Get to "drink an apple" with our world-famous Will's Apple Cider
Go through our corn maze
Take an authentic hayride
Pick the perfect pumpkin to take home
We want all of our visitors to leave Colon Orchards with a brand new perspective on farming and locally grown produce. We will explain how we make a corn maze, tell you how many pumpkins we grow each year, and teach you about all of the different types of pumpkins we grow. We promise your kids will leave Colon Orchards knowing a little more than they did before the field trip. 
All educational, farm field trips must be booked in advance.