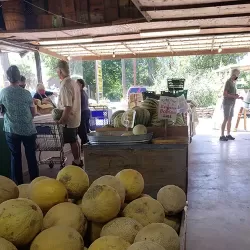 Colon Orchards has been a Cañon City staple for more than 85 years. We are Colorado proud and sell only fresh, high-quality products from all over the state. If we don't grow it, we will find the best small farm in Colorado that does, so we can bring it right here to Fremont County.
Colon Orchards is a fourth-generation, family owned and operated farming operation that has a market shop brimming with fresh fruits and vegetables. Since opening in 1937, we have been honored to serve the Canon City community and provide sustainable and local fresh produce and other products.
Cañon City Local, Colorado Proud
Colon Orchards works with other local businesses in nurturing the culture of the community. We support each other and help out in any way we can. That's why we love Cañon City. Because other businesses do the same. We are a close-knit community who cares about helping each other grow and thrive. 
We are proud to continue the Colon Orchards legacy of providing the finest locally grown produce to Cañon City. We grow a huge amount of produce right here on the farm, but if we can't grow something here, we will find the Colorado farm that can.
We have cantaloupes and watermelons from Rocky Ford, beans from Adobe Milling in Dove Creek, peaches from Palisade, sweet corn from Olathe and Avondale, onions and potatoes from the San Luis Valley, and so much more.