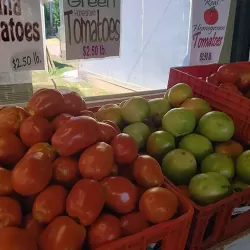 Here at Colon Orchards, we take pride in providing Fremont County with only the finest fresh produce grown and sourced locally. All of our products, as well as our other Colorado sourced produce, are for sale in our market, located in Cañon City. We open in June and remain open with regular business hours through Christmas Eve. 
At our fresh produce market and store you can find a variety of fresh produce that we have grown ourselves and sourced from the best farmers in Colorado. You can buy squash, pumpkins, heirloom tomatoes, cucumbers, pickling cucumbers, dill, herbs, cantaloupes, watermelons, Colorado beans, peaches, sweet corn, onions, potatoes, and so much more. (All items are season dependent, of course)
Our Farm Fresh Products
In our market, you can find all of the things we grow right here at Colon Orchards, as well as a huge variety of products from farmers all over the state. Our specialties here include pumpkins, squash, cucumbers, fresh herbs, heirloom tomatoes, and more. 
In the summer, we keep our shelves stocked with your favorites from all over the state. Corn from Olathe and Avondale, beans from Adobe Milling, peaches from Palisade, cantaloupe and watermelon from Rocky Ford, and so many more goodies from all over Colorado.   
Meat, Honey, Jarred Items And More
We are proud to carry more than just fresh produce. We also make sure to stay stocked with locally made jams, jellies, salsas, spaghetti sauce, honey, chicken, beef, pork, free range eggs, pastas and tons of other surprises. But as always, everything we sell is made right here in Colorado. !