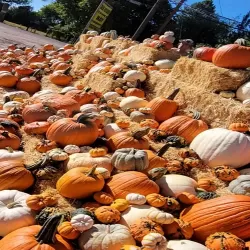 The Colon Orchards family believes in having a strong sense of community. We have been here for years, providing Cañon City the finest fresh produce and great activities for visitors of all ages to enjoy. But by far, our most popular time of year is the fall. 
This is when we open our pumpkin patch and corn maze. Starting in September, our pumpkin patch is ready for you to explore. This is one of our  favorite ways to connect with the community and introduce new visitors to our shop and our products. Nothing brings a family together quite like a day on the farm.
The Colon Orchards Pumpkin Patch
Make your way out to our pumpkin patch and once you're there, you get your pick of the litter. There are pumpkins of all types, shapes and sizes for you to choose from. 
Our pumpkin patch and corn maze at Colon Orchards begins at the end of September, just as fall is in full swing. You can spend the afternoon at the farm, exploring the pumpkin patch, checking out all of the amazing, local products in our market, and making your way through our corn maze. This is a great learning experience for everyone! As always, our employees and family are on hand to answer any questions you may have.
The pumpkin patch and corn maze at Colon Orchards has always been a family favorite in Cañon City. People from all over Colorado come to enjoy a fall day on the farm with friends and family, learning about growing produce, picking out their pumpkins, and playing in the corn maze. 
To find out what weekends we offer free hayrides, follow us on Facebook!